Vodavi Starplus STSe Do It Your-Self Installation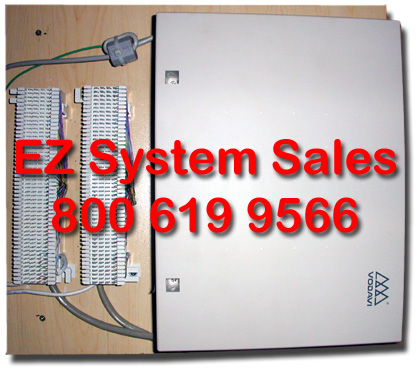 EZ Phone systems offers help with your Vodavi Starplus STS Basic KSU Installation. A do-it-your-selfer can perform a Starplus STS installation if Starplus STS Installation hardware is purchased. Please follow these instructions as well as your installation guide which your received with your Starplus STS
Do-it-yourself installation. The Starplus STS Installation cable connector kit makes installing the Vodavi Starplus STS a breeze. Click on the link on the right side of the page for an exploded view of the Starplus STS EZ Installation cable connector kit. After you have followed the instructions on this page and in the Starplus STS installation manuals you have received with your phone system, your phone system will be ready to power up. All Starplus STS systems with software are plug and play. You will be ready to send and receive phone calls as soon as the Starplus STS is connected correctly.
NOTE: 1 pair of wires is required on all incoming phone lines and phone extensions. A 66 Block termination punch down tool is also required for installation.
Punch down the appropriate pair of wires for each terminal. For example, the 100 T & 100 R terminals are the terminals for the first phone extension which is extension 100, and the Line 1R and the Line 1T terminals are for the first incoming telco line witch is Line 1.
---
install kit includes: 1 66-punch down block and 1 10-foot male to female 25-pair amp cable. Add an additional 66-punch down block for less confusion and clutter with punching down 2 25-pair amp cables to 1 66-punch down block.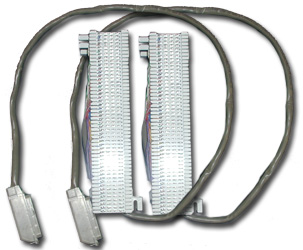 The picture shows the cables and punch down blocks in there assembled state with 2 66-punch down blocks for less confusion and clutter.
Assemble instructions include: cut 10-foot amp cable in half, remove the skin from both of the cut ends of the cable and punch down the wires as shown on the schematic below.
---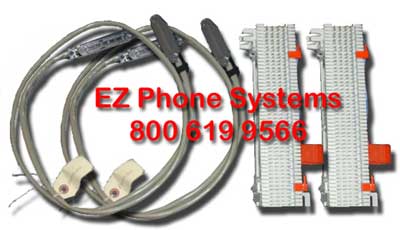 amphenol cable includes: 1 5-foot 25-pair male to male amphenol cable, 1 5-foot 25-pair male to female amphenol cable and 2 amphenol connection 66-punch down blocks.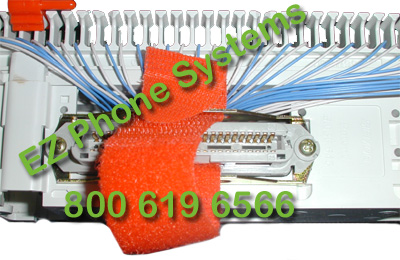 Plug and play cables plug directly into the Starplus STS KSU on the telephone station, CO/Trunk side and directly onto the 2 66-punch down blocks. Once the KSU, 25-pair cables and 66-punch down blocks are all connected together the installer must locate all of the telephone wires and CO/Trunk wire pairs and interface to the 2 66-punch down blocks provided in the kit.

---
Starplus STS Amphenol Connections on KSU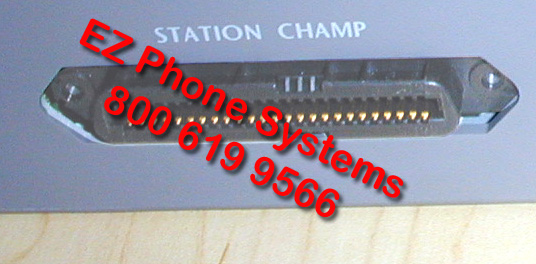 Vodavi Starplus STS Station Amphenol connection from KSU to install kit 66 punch down block number 1
Connects up to 24 stations. Optional expansion cards not included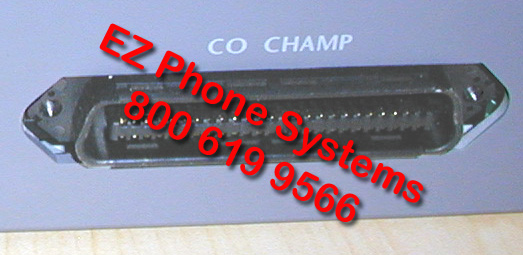 Vodavi Starplus STS CO/Trunk Amphenol connection from KSU to 66 punch down block number 2
Connects all CO/Trunks, Muzic on Hold Source, Alarm, external paging and free relay.p>
---
Punch Down Block 1

Punch Down Block 2

Block Term

Color Code

Function

Function

Color Code

1
2
3
4
5
6
7
8
9
10

White / Blue
Blue / White
White / Orange
Orange / White
White / Green
Green / White
White / Brown
Brown-White
White / Slate
Slate / White

100 T
100 R
101 T
101 R
102 T
102 R
103 T
103 R
104 T
104 R

Line 1T
Line 1R
Line 2T
Line 2R
Line 3T
Line 3R
Line 4T
Line 4R
Line 5T
Line 5R

White / Blue
Blue / White
White / Orange
Orange / White
White / Green
Green / White
White / Brown
Brown-White
White / Slate
Slate / White

11
12
13
14
15
16
17
18
19
20

Red / Blue
Blue / Red
Red / Orange
Orange / Red
Red / Green
Green / Red
Red / Brown
Brown / Red
Red / Slate
Slate / Red

105 T
105 R
106 T
106 R
107 T
107 R
110 T
110 R
111 T
111 R

Line 6T
Line 6R
Line 7T
Line 7R
Line 8T
Line8R
Line 9T
Line 9R
Line 10T
Line 10R

Red / Blue
Blue / Red
Red / Orange
Orange / Red
Red / Green
Green / Red
Red / Brown
Brown / Red
Red / Slate
Slate / Red

21
22
23
24
25
26
27
28
29
30

Black / Blue
Blue / Black
Black / Orange
Orange / Black
Black / Green
Green / Black
Black / Brown
Brown / Black
Black / Slate
Slate / Black

112 T
112 R
113 T
113 R
114 T
114 R
115 T
115 R
116 T
116 R

Line 11T
Line 11R
Line 12T
Line 12R
n/a
n/a
n/a
n/a
n/a
n/a

Black / Blue
Blue / Black
Black / Orange
Orange / Black
Black / Green
Green / Black
Black / Brown
Brown / Black
Black / Slate
Slate / Black

31
32
33
34
35
36
37
38
39
40

Yellow / Blue
Blue / Yellow
Yellow / Orange
Orange / Yellow
Yellow / Green
Green / Yellow
Yellow / Brown
Brown / Yellow
Yellow / Slate
Slate / Yellow

117 T
117 R
118 T
118 R
119 T
119 R
120 T
120 R
121 T
121 R

n/a
n/a
n/a
n/a
n/a
n/a
n/a
n/a
Alarm
BKSU Only

Yellow / Blue
Blue / Yellow
Yellow / Orange
Orange / Yellow
Yellow / Green
Green / Yellow
Yellow / Brown
Brown / Yellow
Yellow / Slate
Slate / Yellow

41
42
43
44
45
46
47
48
49
50

Violet / Blue
Blue / Violet
Violet / Orange
Orange / Violet
Violet / Green
Green / Violet
Violet / Brown
Brown / Violet
Violet / Slate
Slate / Violet

122 T
122 R
123 T
123 R
124 T
124 R
125 T
125 R
N/A
N/A

n/a
n/a
External
Paging
External
MOH
n/a
n/a
Free
Relay

Violet / Blue
Blue / Violet
Violet / Orange
Orange / Violet
Violet / Green
Green / Violet
Violet / Brown
Brown / Violet
Violet / Slate
Slate / Violet

---

More Installation Help

Locating pairs of wires for CO/Trunk lines